DOTr to Complete Upgrade of More Airports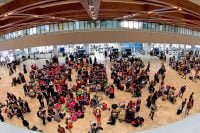 [smartads] MANILA, Philippines — The Department of Transportation (DOTr) has committed to complete the upgrade of 27 more commercial airports in the country before the term of President Duterte ends in 2022.
The DOTr said the government in the first half of the Duterte administration has completed 17 commercial airport projects. These include the construction of two new international airports – the Lal-lo International Airport in Cagayan and the Bohol-Panglao International Airport – and upgrading of 15 existing gateways.
"Connectivity and mobility in transport are key components in socio-economic
development. By building new airports and rehabilitating existing ones, the transportation sector contributes to both regional and national progress," Transportation Secretary Arthur Tugade said.
To pursue its plans to improve air connectivity in the country, the DOTr said it is accelerating the ongoing infrastructure development in 27 commercial airports and one military air base.
The government is also set to build one more international airport.
Please continue reading at DOTr to Complete Upgrade of More Airports
[smartads]