Day 3 – Falling for Beer & Chicken in the CR
[smartads] Before we get started on Day 3 I have a special note from Jun Apilado about the last post.  He left me a message on my Facebook page.  I happy to say that he is sharing some of his insight on part of the birthday celebration in Catmon for Poppa.  This is what he had to say:
"I'd to comment on the early singing on Tatay's birthday it's called Mananita, an early morning greeting for the celebrant thru songs, a sort of serenade…"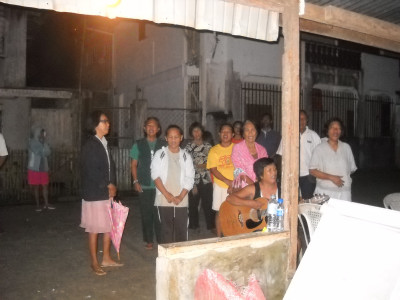 Mananita for Poppa's 90th
Thanks Jun I'm glad you enlightened us.  I had no clue what that was all about and probably some of the other readers were wondering about it also.  It's always good to learn something new whatever the case.
Okay let's get on with Day #3.
It's Saturday morning and I have no idea what time it is when I get up.  At the time I didn't really care either, mainly because I was feeling really dizzy when I got up.  Now I did have quite a few glasses of San Miguel beer the night before, but this doesn't feel like any hangover that I've ever had, and I don't like it.  I think there is another problem.  I was suppose to be walking around Tambis today and probably making a little video, but it doesn't look like that will be happening today.  I will get some pictures though, at least.  This is not turning out so great so far.
We are suppose to be leaving early tomorrow morning and I'm going to be ready earlier.  Right now I just want to lay down so I will stop spinning, but I've been laying down so much since I've been here, my back is hurting.  Okay I'm going to force myself to go outside and take some pictures and hopefully a video too.
Nope, no video.  I did get some pictures, but when I tried to walk to begin the video, that dizziness returned.  I think tomorrow morning instead of getting cappuccino to drink, I'm going to get some coffee.  That might help, but maybe not.  I hope the whole thing is over with by then anyway.  I've got no clue why I'm feeling so woozy.  It hasn't happened on any other trip here.  We are suppose to be going to Hindag-An Falls and Forest Park (their Facebook page) later, but it doesn't look like I'll be jumping from the cliff today.  Right now I'd be happy just to make it up the hill.  Maybe I can do a video of me walking (or crawling) up the hill, so y'all can see how far it is.
It's 0930 and according to Lita, we are going to go by Catmon and then to the Falls.  At the moment I don't feel so dizzy, but maybe that is because I'm sitting still in the front seat of Khany's car.  I'm hoping the dizziness will stay gone for the rest of the trip and actually stay gone forever.
Sometimes it seems the children here never grow up.  It seems to me that the last for years I've been coming here I always see the same 'little' children.  That obviously is probably not true, but it does seem so to me.  No matter how many times I have been here, there is always an overly curious bata hanging around staring.  Just like now as I'm sitting here waiting to go, there must be 4 or 5 of them hanging around just looking.  I don't want to move my head to look, I might get dizzy.  We were suppose to leave by now, but with Filipinos you rarely get to leave on time because when the say, "Let's go", I think in Tagalog that means, "Let's start getting ready".  Of course that is not always the case, but, in my experience, most of the time it is.
When we got to Catmon, no one was there, but supposedly someone was to be there.  After a couple of phone call attempts, Khany got through to someone and found out that they are all already at the Falls.  We were the last ones to arrive, but it's not a big deal.  Since we had Poppa with us, Khany talked to the manager of the place and got permission to 'drive' all the way up to the gate.  We were heading up there, but it got too steep with everyone in the car.  So everyone except Khany (driving), Poppa and Lita got out, which was Bebie, Grace and me.  He still got stuck for a couple of minutes and just about the time I got to him to try to help push him out, he made it up.  At this point, I don't feel dizzy, but I don't feel so good either.  I started taking pictures though.  I wanted to take a lot of pictures of this place.  I even did another video while there.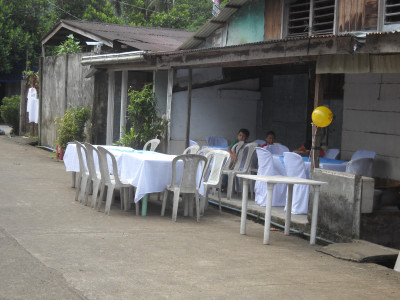 Outside Catmon house before Falls
I didn't eat much while I was there.  Partly because I didn't feel good and partly because I didn't like anything that they had to eat.  I did get a salad (kind of).  It had cucumbers and Chinese cabbage.  Mar said he couldn't find any lettuce, even though he looked in 3 different towns.  There was mayonnaise and ketchup (even though it was banana ketchup) so Lita made some 1000 Island dressing.  They made a cucumber salad on a plate of the Chinese cabbage.  I like Chinese cabbage, but it's not so great as a lettuce substitute.  I did eat some of it and all the cucumbers.  That was all I had to eat there, although I did drink 2 or 3 Mountain Dews.
Since we were the last ones to arrive, we naturally were the first ones to leave.  We left (finally) a little before 5:00pm.  I still did not feel good and even got dizzy a couple of times while there, so I never even got in the water.  I think only 3 of us never got in the water.  Heck they could have gotten in and I just didn't see them.  I wasn't in tip top shape and all I wanted to do was leave.  That's pretty terrible, but I just didn't feel like being there at the time.
At the moment we are at the Catmon market area.  Again Khany and I are sitting in the car, this time with Poppa.  I'm not sure what they are buying, but I don't care as long as they remember to get something I like to eat later and everything is got.
I think I'm going to end up taking a shower tonight, even though the shower area is pretty small.  It does look a lot better than it did last time because they have tile on the floor now and the wall look a lot better than the gray concrete look it had before.  I guess their CR is fine since there is only 2 of them and they ain't so big.  There is no way I could have a combination toilet/shower, especially one that is so small.
It seems that Titing has decided we will be leaving on Monday morning instead of Sunday morning (tomorrow).  Since we are at the mercy of no transportation, we have to wait also.  Next trip, most likely, either we will have our own transportation or we won't be coming.  At least on won't be and Lita says she isn't, but the next scheduled trip is for All Saints Day in late October and she promised the Saints that she would visit the cemetery if she is in the Philippines, so we'll see how that turns out.  I didn't make any promises to the Saints and I didn't go with her last time for All Saint's Day, so I very seriously doubt I'll be going for the next one without my own transportation.
Lita made chicken adobo tonight because I think she felt sorry for me because I haven't eaten much all day.  She knows I love the chicken adobo.  I was hoping that after eating it would stop the dizziness when I sat up from laying down.  It didn't work though, at least not the next time I tried it.  I'm thinking at this time that when we get back to Calbayog, I'm getting out the blood sugar and blood pressure testers we have and I'll be checking things out.  They might not be 100% accurate, but they are close.
Since Mar mentioned something to me about it, I've noticed that the dogs here seem to be fatter than the dogs in Calbayog.  I haven't seen a skinny, sickly looking dog since I've been here.  I don't know why that is, but maybe the dogs eat more rice in this area.
I found out, from Titing, that, in total, there were around 200 guests for Poppa's party, not including the workers.  I knew there were a lot of people in an out of there, but I had no idea it was so many.  I do know that anyone that came by to get something to eat, did get something to eat.  Even if it was just someone that came in off the street.  That is something I kind of like about the Philippines, especially in the smaller barangay's, if someone comes by to get something to eat, they will get something and are rarely turned away with nothing.  Even in the larger areas, like here in Calbayog, it happens on occasion.  They even have a holiday that whatever you cook you share with whomever comes by, but I forget which holiday that is.
These people are talking about going back to the Falls again tomorrow.  If they do, they will be going without Lita and me.  I'm going to make another attempt to walk around town and get pictures and maybe a video.
Salamat, Paalam