I decided that I need to get a short post in here to let y'all know that I am not ignoring this blog, but things have been very slow around here almost the whole month.  Actually since our trip to Tacloban with Randy & Teri Landis on 6 July, we have done nearly nothing but hang around the house.  On our trip to Tacloban it was nice.  It's always nice to be in a regular vehicle instead of one of the vans or a multi-cab.  I mean it's okay to travel in the others, but it feels more like normalcy to me in the car and you can stop when and where YOU feel like it. So we did stop in Catabalogan.  Randy & Teri wanted to take us to a restaurant they discovered there, but it was being remodeled and we could not eat there.  I forget the name of it, but maybe Randy is reading this and will leave the name in the comments.  Flamingo Hot?  We decided to go to Jollibee instead.  I'm not a big fan of Jollibee, but I did try one of their breakfast sandwiches there.  I liked it alright and would probably order it again.  I don't even remember what it was 'exactly' that was on the little sandwich … Randy?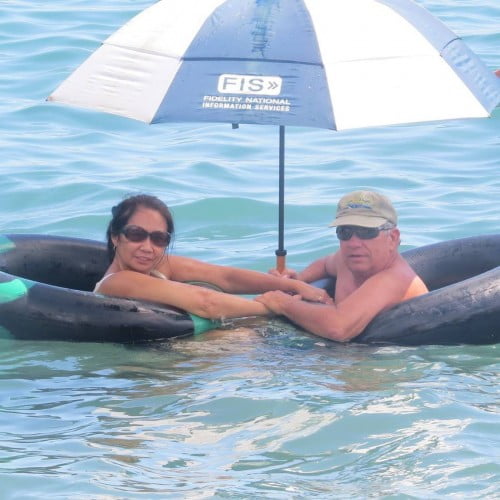 After that we headed out for Tacloban.  When we arrived we located the Robinson Mall with not so much trouble, mostly thanks to Randy & Teri traveling there often.  They dropped us off at the mall and went to bring their car to the dealer for an oil change.  They came back via tricycle and we decided to eat at Shakey's.  We got a nice variety of foods, well the wives did, Randy and I just ordered pizza.  Of course we had to help our wives eat their food.  After eating we went to the supermarket to shop.  After that we left our groceries at the customer service desk and continue checking out things at the mall.  We had separate things to do so we split up at that time.  Randy & Teri were going to be spending the night there and returning the next day, but Lita and I were returning after we were finished with what we were doing.  I tried to talk Lita into staying overnight, but she just didn't feel like it.  I did see them once more briefly while I was waiting on Lita, who was in the CR.
After purchasing our blender and me checking out larger refrigerators, we got in a multi-cab and headed to the Grand Tour terminal to head back home.  The ride back was not near as great as the trip down there, but it is what it is.  If I want to have the comfort of a car all the time, then I guess I'll just have to buckle down and buy one.  I don't see that happening anytime soon, but you never know.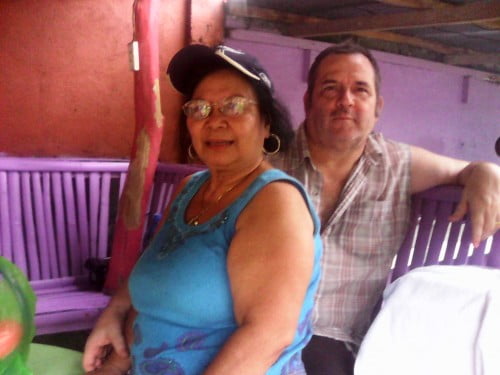 We have decided to sell a couple of products here from the house.  It's not much and we definitely will not be getting rich from it, but Lita makes an awesome papaya salad (I hear, I don't eat it) and also some pico de gallo (that I really like).  I think I already had that in a post, but this is just a reminder.  Actually, besides Randy, only Dean has bought any of it.  He came by on 12 Jul to get some.  I don't know if he liked it or not, we have not heard anything from him on that.  I guessed it wasn't 'super good' for him or he would have been back by now.
I suppose that's all I have to say for now.  As I mentioned, we have not done much since 6 July except hang at the house.  Randy has been by a couple of times and we talked and he helped me drink some beer.  I don't really need any help, but I don't mind letting him share.  When I go visit him at his house, I'll be expecting him to share some of his beer with me.  I don't get to his house that often though.  It's a long ways to take a tricycle and that's the only real transportation that I can get most of the time.  There is probably a way to do the multi-cabs to get there.  I don't know what that is right now though.  I'm not sure if any transfers would be required.  At the very least I could get a lot closer and take a tricycle for a shorter trip the rest of the way to his house.
Salamat Y'all
P.S. In case y'all don't know the "V.V" in the title, it's what a lot of the multi-cabs have on the sides of them.  It means "Vice-Versa".