[smartads]
I will admit that I stay around the house most of the time.  I would like to get out more, but just going out doing nothing is not productive.  There are times however that I do get to get out and get some things done.  Those times are usually at the beginning of the month when we get our money.  This story is about mine and Lita's trip to downtown Calbayog (Calbayog Proper) and the things that are basically normal here, but I would not say that they were "Only in the Philippines".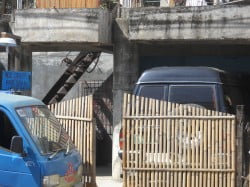 We started out around about 10:00am, heading for Metro Bank to withdraw money from the ATM.  We had Khan Khan with us because Lita had promised him a pair of shoes for his birthday and we did not have the money until now.  We use the Metro Bank ATM because it is the only one in town that works for us on a continuous basis.  Some of the others did work before, but I don't even bother checking them anymore.  I would rather just wait in line, if necessary at Metro Bank.  So as the tricycle is pulling up I see a lot of people up there at the bank.  I'm fearing for a long wait, but as it turns out only about 1/2 of the people there were waiting on the ATM.  The rest were there waiting on someone else.  It is hard to tell a lot of times who is in line because there is not real line.  Some of the people just kind of hang around and you have to know who you are behind in the line and wait for them to get their turn, then you know you are next.  It is a mess really, but that is how it is done a lot of the times around here.  I guess that is why you see so many signs inside some businesses that say "Please Fall in Line", meaning to "Make a Line" or "Get in Line".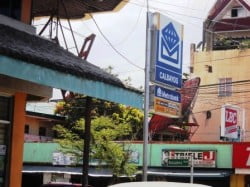 What made the line even shorter was talking to another Kano from Minnesota.  I never did get his name, or at least I don't remember getting it.  I do know that he was just visiting and he had a girlfriend here.  He was a pleasant guy, so it was easy enough to talk to him.  We were jabbering so much that someone had to tell us that the ATM was empty and it was our turn.  We never even show the person in front of us leave and that is not normal for me.  It took us a little bit longer at the ATM than normal because that machine has a long delay between the times you can put your card in.  Remember there is a P10,000 limit per transaction so when you are doing multiple transactions you have a lot of waiting to do.  I don't like to wait and I don't like to keep people waiting, but there is not much I can do about it when in there.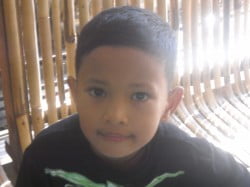 After finally getting out of the ATM and letting the guy from Minnesota know about the delay of the machine, Lita decided that she wanted to eat at Chow King before we began our downtown adventure.  Okay, I can live with that.  I like Chow King better than Jollibee anyway.  Even picky me has multiple choices in Chow King, but I was hungry and opted for 3 chicken breasts and 1 order of rice.  First of all you have to wait on the chicken breasts (10-15 mins) because I don't think they cook any of them unless someone asks.  Second of all, since I don't speak Waray-Waray, it is hard to explain something that is not exactly on the menu.  They always act like they understand after I have repeated it to them 3 or 4 times, and I always expect them to get it right, but it hasn't happen yet.  It's like if you order a piece of chicken, you automatically get rice with it, no matter what.  When my order arrived there were 3 chicken breasts, 3 orders of rice and 3 orders of chicharon (pork skins).  That's 2 orders of rice and 3 orders of chicharon more than I ordered.  I suppose it's all the same price though.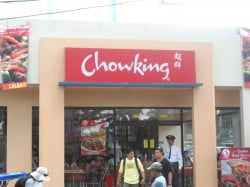 It's a good thing we had Khan Khan with us.  For someone who is so small and skinny, he can put some food away.  He had an order rice, 1/2 piece of my chicken, 2 of the orders of chicharon and 1/2 of a regular halo-halo.  All that after he said he had already eaten this morning.     Lita got the Chicken Mami, which is what I should have ordered again, and I probably will our next trip there.
Next it was time to go get Khan Khan shoes.  We knew were we wanted to go to get them, but we were unsure of the exact street they were on.  That's when our ignorance cost us.
I'll tell you why in the finale of this post, next time.
Salamat, Y'all