[smartads] I'm still up from the night before trying to get as much done before this scheduled 15 hour brown out.  It is 0205 now and the brown out is suppose to begin at 0300 and last until 6:00pm.  They are suppose to be replacing the wooden poles with metal ones, but I still don't see why they are not sophisticated enough to switch the power over without it having to be interrupted.  Of course the electric companies have gotten the people here so use to these brown outs, that they don't really care anymore.  They just find something different to do while the electric is out.  I think I've stayed up just about as long as I can handle, so I'm heading off to bed.  I guess I better enjoy that electric fan for the next 40 minutes, because that's all I'll have before the brown out starts.
They did have the brown out, right on schedule.  They are pretty good at bringing it down on time, but sometimes they bring it back up late.  Of course sometimes they bring it back up early too.  It's okay to bring it up early, especially when it should not have been down to start with.  For so early in the morning, it sure is hot in here.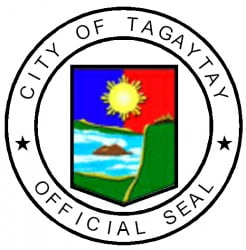 http://en.wikipedia.org/wiki/Tagaytay
The City of Tagaytay (Filipino: Lungsod ng Tagaytay) is a component city in the province of Cavite, in the Philippines. It is one of the country's most popular tourist destinations because of outstanding scenery and cooler climate provided by its high altitude. Tagaytay overlooks Taal Lake in Batangas and provides one of the iconic views of the Philippines, the view of Taal Volcano Island in the middle of the lake, viewable from several vantage points in the city.
Tagaytay is relatively close to the capital city of Manila, only 55 km (34 mi) away via Aguinaldo Highway, providing an easy escape for the locals from the heat of the big city.
Legend has it that the word Tagaytay came from "taga" meaning to cut and "itay" which means father. A father and son were said to be on a wild boar hunt when the animal they were chasing turned and attacked them. As the boar charged towards the old man, the son cried "taga itay!". The boy's repeated shout reverberated in the alleys of the ridge. Heard by the residents, hunters and wood gatherers, the cries became subject of conversation for several days in the countryside. In time, the place where the shouts came from became known as Tagaytay.
Okay, it's later now.  It's 10:35 and I'm taking a turn in LolyKat.  It's cooler out here than in the house with no electric.  Besides I have the little portable fan too.  One of the Waterscape guys (the blue team) came by to buy 20 things of ice water.  We only had 16 in the refrigerator, so Lita let them borrow the pitcher and a couple of tubes of ice to go with it.  It's Saturday, but she said that they should return it by Monday.  I guess she ain't worried about that pitcher.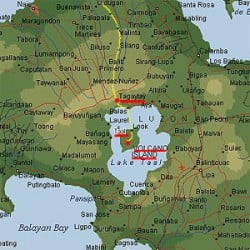 http://www.travelph.com/resorts/tagaytay/
My check was deposited in the bank last night via direct deposit, so Lita and I will be going downtown later to get money to pay the bills.  I'd like to wait until in the morning so I can check out the Philippines to Seoul tickets again, but that probably will not happen, especially since I can't do it until the power comes back up around 6:00pm tonight, if it come up on time.  I also need to check the Facebook accounts of the AMC terminals at Osan, Travis and McChord.  I have one more question to ask at the Osan Facebook page.
I closed the store at 12:25pm.  Lita is ready to go downtown.
Okay so we get to the bank and there are only 2 people in line ahead of us, plus the person already in.  Not too bad of a line at all.  When our turn came up to go in, I got some money and put it in my pocket.  Lita didn't say anything.  When I got some more money (because there is a P10,000 limit per transaction) and started to put that in my pocket, she asked, where's mine?  Well by this time we are heading out the door of the ATM and there are people there.  I just 'never' flash any type of money in public.  I asked her what she wanted it for because I just got out money to pay the bills today, but she was already mad.
We were suppose to go to Chow King so she could get a Halo-Halo, but that didn't happen either.  She was getting in a pajak-pajak to ride there, but I decided that I should walk.  I didn't say anything, I just went.  I waited at Chow King about 5 minutes before I figured she wasn't coming.  If she was riding, she should have been there before me.  I left, did the shopping, the best I could remember and headed home.  She was mad, I was mad, but now we ain't.
http://www.panoramio.com/photo/28762960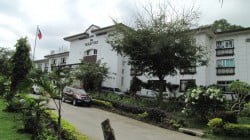 That happens a lot around here.  The things I remembered when shopping were the 10 kilos of chicken, the bread and the white chocolate she wanted.  She's in the kitchen cooking the chicken now and cooking rice.  I'm sitting at the picnic table writing these notes and listening to the light rumble of thunder.  I guess it's going to rain again.  I'm not even going to bother re-opening the store today.
Our 32nd anniversary is this Saturday (April 7th), but we probably will end up celebrating it a month or a month and half late, in Texas.  At least we hope so.
I laid down to take a nap at 2:15pm, hoping that by the time I woke up, the lights would be back on.  When I woke up around 4:30, they still were not on.
The lights finally did come back on at 7:35pm.  Only 1 hour and 35 minutes past the scheduled time.  Lita had already started cooking using an emergency light we have.  Not the fan light, a different one.  She was actually almost finished cooking when the lights came back on.  After eating the chicken, rice, cheese, onion, pepper and garlic combo, I headed for the computer.  Of course the internet is down.  I tried to reset it, but that didn't work.  I'm sure it will be up in a little while, but until then, it's another waiting game for me.
Salamat, Paalam