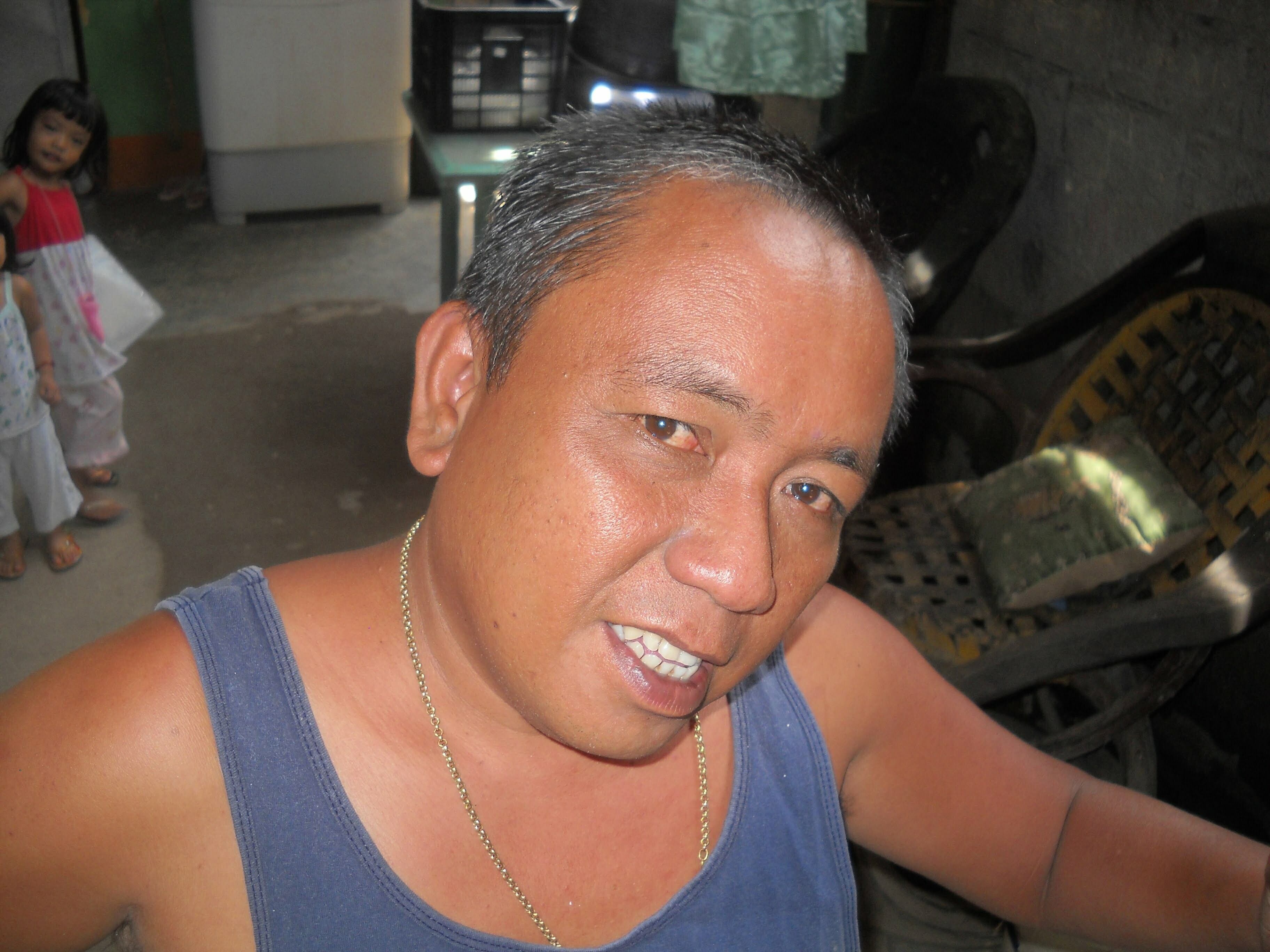 [smartads]  I've gotten to a point that I can get all caught up on what's currently going on around here.  I believe that I have gotten all the interesting things from the past posted already, besides what I will be putting in the next couple of posts.  As I relayed to you in the last post, I ate the whole pizza and I have started doing the bullet statements to take notes.  I have 12 of those bullet statements and I think I can make a good post out of half of those.  The other half will be in a post tomorrow.
With so many people around here, including children, we have a lot of birthdays and birthday parties.  Today is actually the birthday, or at least we are having the party today, I guess the birthday is today, of Rhianne Marie.  That is Marge's (not Margie's) daughter, Mar and Ludy's granddaughter.  She is turning 1 year old and that is a very big deal here in the Philippines.  We are having a big party for her in a barangay that I have not been to.  Cathy has my camera, but I'm hoping to get it back before the party.  If not then I will have to 'borrow' pictures from Mar and/or Marianne's Facebook to get a couple to post on here.  I think that if I had the money I'd buy 3 or 4 cameras and give them as Christmas presents so I would not have to lend my camera out so much.  Of course I would keep one of the new ones.  I already know which one I want too.  It looks like the one I have now, just a different brand, but this one has GPS added to each picture.  I thought that would be a good thing for this post.  You can take a look at it here in case your wondering of maybe if you want one.  I really don't care which color I get, but I think the blue one looks the best.  I'll probably just go with the least expensive one.  After all, they are all the same, just different colors, just like people.  When I can afford to I should and will get one.  Unfortunately it is not at the top of our priority list right now.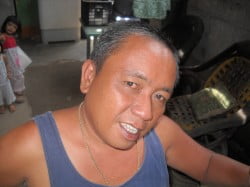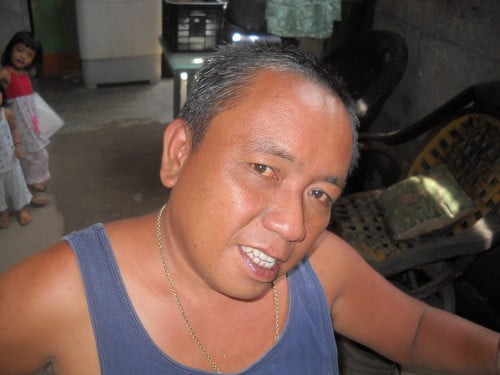 Another birthday coming up is for Casandra.  Her birthday is on 6 September.  She will be 2 years old.  It sure doesn't seem like she is that old, but I guess so.  It's an easy day for me to remember her birthday because my Mom's birthday is on 4 September and my youngest sister Joyce has her birthday on 5 September.  I'm sure that she will have a small party here at the house.  Although all birthdays are special, there is not as much hoopla on birthday #2 as for #1.
I want to slide a little bit of sad news in here.  The other day a 6 year old child was killed by a speeding truck just down the road from our house.  It seems that he was with his older brother and when the older brother crossed the street, the younger one followed, but there was a truck bearing down.  The vehicles here are always speeding down this road, which is normal in the Philippines.  All they do is honk their horn and people are expected to get out of the way.  I was not aware of this tragedy until after the fact, so I don't know all the details, like did the truck even try to stop or did they even see him.  I do know that if I had the money, I would find a place to build a play ground for these children so they will not have to play next to this highway.
The fan on the wall in our bedroom petered out again, for the 3rd time.  We sent it in to get it fixed again, but it is not back yet.  I'm thinking that maybe he can't fix it this time.  Usually after he fixes it, it lasts for about 4-5 months before petering out again.  Maybe it's just time to buy a new fan.  That poor fan I have running almost 24/7/365, except during the many brownouts.  We have 4 fans now, but I'm thinking to get about 4 more  I would use a couple of them for backups and put the other 2 in the kitchen area, one on each end of the room.  We also have been considering getting another ac.  We would take the one out of the bedroom and put it in the computer room.   That one in there is not really big enough for that room anyway.  We need one with more power to cool that room properly.  I doubt we'd be able to have both of those ac units on at the same time though.  We would probably blow the circuit.  I don't know that, just thinking that.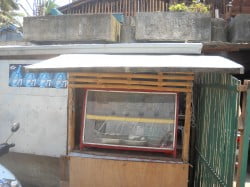 In case you haven't realized it yet, Vicky no longer works here.  I figured that since I haven't mentioned her in any recent posts, you figured that out.  Well we do have a new cleaning lady and she is very good.  Her name is Pam.  She washes the clothes and dishes, plus does so many more things around here.  She only works for us 3 days per week and she gets paid P100 per day, plus at the end of the day she gets to bring home some leftover food.  Maybe not all of it, but enough to feed her family.  On 2 or 3 of the other days in the week, she works for Neneng, so she has a pretty full schedule.  She helped Lita clean up the bedroom and the computer room. All the balikbayan boxes I had in here are now emptied and gone.  Of course we still have not gotten enough places to put everything, but are working on that too.  I'm going to do another expanded post on more details about what's been going on with the cleaning and our future plans for making our room and the computer room, more liveable.
Tomorrow we are suppose to be getting some linoleum to put on the floor in our bedroom and the computer room.  I sure will be glad to see that because the dust build up from the concrete I think is getting into my computer.  I tried to cover it at night when not in use, but I still think it is getting in.  I'm not sure of the color of the linoleum, but I told Lita that I didn't care, as long as it is not pink.  Here favorite color is blue and our walls are painted light blue, so maybe it will be blue.  I'll let you know when I know.  When it gets put in we will have slippers outside our bedroom door that we will have to change into before coming into the room.  No other shoes allowed.  This is Lita's idea and it's just easier to go along than fight about it.
I've been having problems with my surge protector.  It still works to let me on the computer, but sometimes when we have a power spike, it turns the computer off.  I have to restart it and I hate having to do that several times per day.  I have told Lita about it and when we get the money next month (October), I will use part of it get a new surge protector and a new power supply for the computer.  I'm going to finally get a power supply that uses the 220W so I will not need the transformer anymore.  The monitor already can be used with 220W.  I will let Lita have the old multi-plug surge protector and the transformer for the kitchen.  She will then be able to use most of her blenders and other handy gadgets, like her ice crusher to make some halo-halo.
Okay last thing for this post and it was not one of the bullet statements.   I'm thinking again that instead of typing this long post 2-4 times per week, that I should do more of the shorter posts.  I know that last time I brought this subject up, I got a couple of people that said they preferred the longer posts and I didn't hear any positives for the shorter ones, so I kept doing the long ones.  So what do y'all think?  If I do the shorter ones, I would do more, probably more typing, but then you could pick and chose which one of the posts to read.  Maybe some of the things in this post you really don't care about, but pops up in your way of reading the things you do want to read.  I don't know, I'm just putting it out there to see what y'all think.  I'm going to ask my blog guru, Rich what he thinks too.  I'd like to be able to relay the thoughts of y'all to him.  In the end the most important thing is that you, the reader, are happy and that is what I'm going to try to do no matter whether it be the long way or the short way.
I did leave some really good things from those bullet statements for tomorrow.  I wanted to tell you it all today, but I had to stop somewhere.
Salamat Y'all
A woman, searching for a job, inquired about the benefits. The Personnel Manager informed her they had group health and life insurance, but the costs were deducted from the employee's pay.
She said, "My last employer had full health coverage, as well as five years salary for life insurance and a month's sick leave AND they paid the full premiums."
"I can't help but asking madam why you would leave a job with such benefits," the interviewer replied.
The woman shrugged her shoulders and said, "The company went bankrupt."
http://www.calauag.com/joeks_laang
September 01
Wednesday 01, 2004:
The Beslan school hostage crisis begins when armed terrorists take hundreds of schoolchildren and adults hostage in the Russian town of Beslan in North Ossetia.
Saturday 01, 2001:
the largest change in North America.
Wednesday 01, 1999:
A LAPA Boeing 737-200 crashes during takeoff from Jorge Newbury Airport in Buenos Aires, killing 74, including 10 on the ground.
Sunday 01, 1991:
Uzbekistan declares independence from the Soviet Union
Sunday 01, 1985:
A joint American-French expedition locates the wreck of the RMS Titanic.
Saturday 01, 1990:
The Communist Labour Party of Turkey/Leninist is founded, following a split from the Communist Labour Party of Turkey.
Thursday 01, 1983:
Cold War: Korean Air Flight KAL-007 is shot down by a Soviet Union jet fighter when the commercial aircraft enters Soviet airspace. All 269 on board are killed.
Monday 01, 1980:
Chun Doo-hwan becomes president of South Korea after the resignation of Choi Kyu-ha.
Saturday 01, 1979:
The American Pioneer 11 becomes the first spacecraft to visit Saturn when it passes the planet at a distance of 21,000 km.
Wednesday 01, 1976:
The Meadowlands racetrack in East Rutherford, New Jersey opens.
Monday 01, 1975:
The last original episode of the American television series Gunsmoke airs on CBS after a record 20-year run.
Friday 01, 1972:
In Reykjavík, Iceland, American Bobby Fischer beats Russian Boris Spassky and becomes the world chess champion.
Tuesday 01, 1970:
The last episode of the television sitcom I Dream of Jeannie airs on NBC. The show premiered on September 18, 1965.
Monday 01, 1969:
A coup in Libya brings Col. Moammar Qaddafi to power, ousting King Idris I.
Saturday 01, 1962:
Channel Television launches to 54,000 households in the Channel Islands.
Thursday 01, 1960:
Disgruntled railroad workers effectively halt operations of the Pennsylvania Railroad, marking the first shutdown in the history of the company.
Wednesday 01, 1954:
Paul "Bear" Bryant opens his infamous 10-day football mini-camp in Junction, Texas: The Junction Boys.
Saturday 01, 1951:
The United States, Australia and New Zealand sign a mutual defense pact, called the ANZUS Treaty.
Friday 01, 1939:
The Wound Badge for Wehrmacht and SS soldiers is instituted.
Saturday 01, 1928:
Ahmet Zogu declares Albania to be a monarchy and proclaims himself king.
Saturday 01, 1923:
The Great Kanto earthquake devastates Tokyo and Yokohama, killing about 100,000 people.
Tuesday 01, 1914:
The last Passenger Pigeon, a female named Martha, dies in captivity in the Cincinnati Zoo.
Saturday 01, 1906:
the International Federation of Intellectual Property Attorneys (FICPI) is established.
Friday 01, 1905:
Alberta and Saskatchewan join the Canadian confederation.
Wednesday 01, 1897:
The Boston subway opens, becoming the first underground metro in North America.
Saturday 01, 1894:
Great Hinckley Fire: A forest fire in Hinckley, Minnesota, kills more than 400 people.
Wednesday 01, 1875:
A murder conviction effectively forces the violent Irish anti-owner coal miners, the "Molly Maguires", to disband.
Monday 01, 1873:
Cetshwayo ascends to the throne as king of the Zulu nation following the death of his father Mpande.
Thursday 01, 1864:
American Civil War: Confederate General John Bell Hood evacuates Atlanta, Georgia after a four-month siege by General Sherman.
Monday 01, 1862:
Confederate forces attack retreating Union troops in Chantilly, Virginia.
Thursday 01, 1836:
Narcissa Whitman, one of the first white women to settle west of the Rocky Mountains, arrives at Walla Walla, Washington.
Tuesday 01, 1807:
Former US Vice President Aaron Burr is acquitted of treason.
Saturday 01, 1804:
Juno, one of the largest main belt asteroids, was discovered by German astronomer Karl Ludwig Harding.
Tuesday 01, 1772:
Mission San Luis Obispo de Tolosa founded in San Luis Obispo, California.
Friday 01, 1752:
The Liberty Bell arrives in Philadelphia.
Sunday 01, 1715:
King Louis XIV of France dies after a reign of 72 years — the longest of any major European monarch.
Thursday 01, 1644:
Battle of Tippermuir, Montrose defeats Elcho's Covenanters, reviving Royalist cause
Thursday 01, 1532:
Lady Anne Boleyn is created Marchioness of Pembroke by her fiancée, King Henry VIII of England
Friday 01, 462:
possible start of first Byzantine indiction cycle
Monday 01, -5509:
The world was created, according to the Byzantine Empire.