[smartads]
After finally renting a car and making to Belton, we have a dilemma as to where to stay, not wanting to stay with my parents because it's too much of an inconvenience for my mom (even though she never complains).  Lucky for us we have some pretty good friends and a couple of them said we could live with them, rent free, for the 2-3 weeks we would be there.  Of course we helped with paying for food, because I do eat more than our lady host, her 13 year old daughter and Lita together.  I did not eat as much as I did our last trip to Texas though when I gained 21 pounds in a 2 month period.  Actually this time I think I maintained and maybe even lost a pound or two.  I didn't do any weighing before or after.
Pete and Jessa Fredrickson
One of the first people, after relatives, and even before a couple of relatives, I contacted was Pete Fredrickson.  He gave me directions to his new house in Harker Heights and we set a date for a bar-b-que there.  Since we could no longer afford to keep the pick-up we rented, which I had already turned in by now, we had to find a way to get to Pete's.  Well of course Pete offered to come pick us up, especially for the first time we visited there.  I guess that is better, that way we would have a whole less chance of getting lost.  He's got a pretty nice house there in a still developing sub-division.  There were only a couple dozen houses in the sub-division and fewer than half of those were occupied.  We had a nice time at the bar-b-que and we were the first ones to taste his cooking from his new grill.  He is in the process of making his garage his man cave, but it was in the early stages.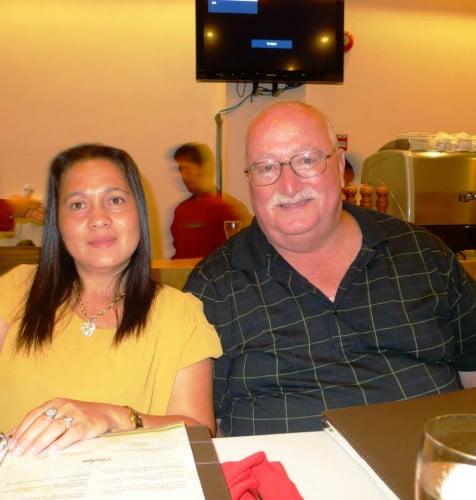 Vehicle Secured
Of course we could not ask Pete to come by to pick us up for everything we wanted to do, he's not that nice of a guy.  So we still had to find a way to get a vehicle.  I was hoping to be able to get my aunt's pick-up, the same one we had the second half of our last trip, but that one was unavailable.  Since we are already trying to budget our funds for our return trip, it proved to be a bit difficult unless we could find someone that had an extra vehicle for us to rent or, even better, use for free, just paying for the gas.  As it turned out though our host's boyfriend (Miguel) had an extra vehicle that he said we could borrow for the duration of our stay.  It was a Chevy S-10 pick-up.  It was not a vehicle that I would feel comfortable making long trips in.  Long trips like to Austin or even Leander were out of the question with it.  He has a small landscaping business and he just drove his company truck for those couple of weeks.  First thing we did when we got the vehicle was to clean out the inside and outside.  The inside really needed cleaning.  He is single after all and it seems he doesn't understand the concept of a plastic trash bag to hang in the truck.  Regardless, it was very nice of him to offer the truck and we were not going to be picky.  When we left and returned the truck it was a lot cleaner than when we got it and instead of the ¾ tank of gas, it had a full tank.
Party, Party, Party
In between the visiting of relatives we had parties to go to.  In the about 2 ½ weeks we were there, we must have had 6 parties to attend.  There were some friends we didn't get around to visiting and I felt bad about that.  Those that we did not visit last time, I have at the top part of my list to visit next time, one family in particular that we should have visited, but didn't, is at the very top of my list.  We had parties at Annabelle's (our host), Pete's and Randy's.  I can't even remember Randy's last name (not Landis), but we had a couple of very good parties there.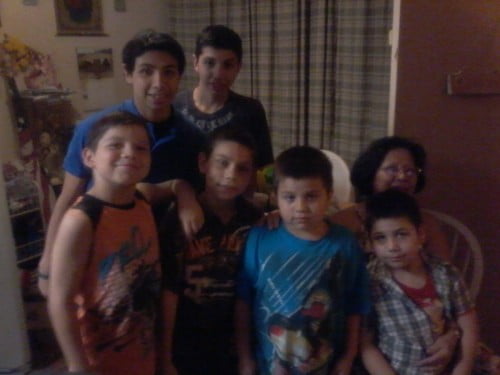 Son Contacted
Most of the trip time just seemed to fly by and we were having a problem contacting our son.  He was not on Facebook and no one even seemed to know where he lived or even his telephone number.  My kidney sister finally came up with a phone number and it was a good one.  The day before we were going to leave to come back we finally got to see him and the grandsons.  It was not near enough, but it sure was better than nothing.  We'll be sure to call early our next trip to spend more time with them.  We didn't even get his home address because he said that they would probably be moving again soon.  At least we have the phone number and I told him he needs to be on Facebook more.  Hopefully we'll have a little extra money next time so we can spoil the grandsons a little bit.
Balikbayan or Not
So a few days before finally meeting our son and grandsons, we were trying to decide whether or not we should send a Balikbayan box or just have some check in luggage.  Problem was that if we had check in, it would certainly be over the limit and Space A does not have the luxury of the over the limit fees.  A Balikbayan box is expensive to send, a little over $100.  We wanted to keep as much money with us as possible because when traveling Space A, you have no idea when/if you will get a flight where you want to go.  Then a solution came our way.  Pete was also sending a Balikbayan box to Calbayog and he offered to pay for both boxes and we just needed to pay back his family here in Calbayog within the next month or two.  He sends them money every month anyway and this way he would get to skip a month because both amounts are about the same.  So Lita packed that box so full that I had a difficult time carrying it, but that's actually normal for our Balikbayan boxes.  Ours was far heavier than Pete's box.  So now that we've got the boxes on their way, it was our turn.
Preview of Next Post
We had to, of course, give Miguel his truck back, but we had already secured a ride down to San Antonio.  It was another stroke of luck.  We even had another opportunity to eat at one of our favorite restaurants before returning.  Flight schedule better than we thought, but not as good as it could have been.  After being persistent, got what I wanted, but it should have been that way to start.
Salamat Y'all