[smartads]
Victor, Judith and Grace left to go back to Catmon this morning around 0530.  Victor was driving Juvic's tricycle with Judith riding.  They brought a lot of stuff with them.  It was so crowded on and in that tricycle that Judith didn't have very much space to move around.  I predicted that they would have to make a lot of stops so she could get out and move around to keep the blood circulating.  She said she was fine.  Grace rode Juvic's motorcycle by herself.  Even though I'm sure they were going to do it anyway, I advised them to stay within view of each other while traveling.  You just never know when something might happen.  At least now they will have their own transportation while they are down there.  Right now it looks like they will be staying there until January.  I'm not sure what the arrangement after that is, but I'll let them work that out.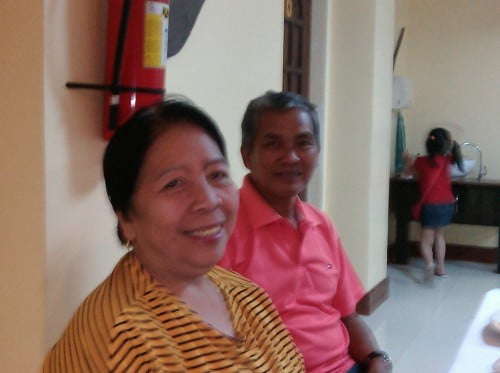 The trip to Catmon normally takes about 6 hours of driving.  When they finally got there, it was over 15 hours.  I was upset because I knew that they stopped along the way, but we did not get any message from them to let us know how they were and where they were.  I contacted Juvic in Australia to ask her if they contacted her.  No.  Of course now Juvic is worried about them.  The roads in the Philippines are not the best to be traveling on, especially at night.  It starts getting dark here around 5:30 pm.  Finally about 7:30-8:00 we heard that they were in Leyte, just not back yet.  The only reason we did hear that was because I asked Titing to call them on the phone.  He didn't have a load, but I bought one for him.  I had to know.  I wasn't sure how much longer they would be on the road, but I knew something now anyway.  Finally about quarter to 9 (pm) I got a message on Facebook from Grace saying that they made it.  I, of course, sent her a stern message complaining about the lack of all of their communication during the trip.  I suppose Filipinos are not use to doing such things.  I contacted Juvic to let her know that they made it and she was relieved also.
For as many years as I've been here (6) and I still have not gotten use to the ways of the Filipino.  Not all of them anyway.  I guess some things are just hard bred into you and it's hard to change.  That goes for me as well as them (the Filipinos).  I'm not saying that one way is right and the other is wrong, but more like a clash of cultures.   I suppose that since I am the one living in their country, I should be the one to adjust.  I have adjusted in many ways, but some things I'm sure will never change from my upbringing and the way of life I have accustomed myself to.
Salamat Y'all