[smartads]
A Day in Calbayog

by Rick Smith
Get out the house, anytime of the day, head into town flagging down a tricycle, then flag a 2
nd
tricycle because the people standing 50 ft away that just got to the streets edge 30 seconds ago, while I been waiting 5 minutes, steal my tricycle. Then get waved off by the next 2 tricycles because they are going on break now. Finally in the Tricycle, tell the driver, "Fruit stand on Rosales Blvd", his reply "SAAN"?(Where?) LBC Kuya, (kuya a polite reference to the trike driver as you don't know his name so just "elder Bro"). His reply ANO? (What?) there are 2 LBC in town, so you tell him Rosales Blvd again,
Finally off and running, err pedaling, bump, bump, bump on the roads, Dang I forgot my Ball cap to cushion my head, I'm a bit tall for the trikes here and the bar framing hurts to bump against a bare head.
Unless you have experienced it let's just say, motor traffic, pedal trike, pedestrian traffic in town is utter controlled Chaos, near misses abound on cars, scooters, pedestrians and other trikes. Street signs like Stop are ignored by all, Rights of Way have no rules but are not so confusing too. Just listen behind you, if you hear uuush,uuush, or the click of a wooden change box lid, then do not step to the left you are being passed. Intersection Rights of Way are basically the bigger vehicle that can cause the most damages has the initial right of way. You may slow down at an intersection but if you stop, allowing cross traffic through, you will wait a long time before given an opening to cross the street.
Ok finally we are at LBC, the fruit stand I want is just next door. It comes in handy to know landmarks in town. Typical directions from a Filipino is a general wave of the arm in a west, north, south or east direction and the comment "Over there". While Filipinas normally don't use their arm to indicate direction they just point their nose, nod their head or point with their lips "over there" again. No street names, no 5 blocks east of here, wala, (nothing) but "over there".
Ok I want Oranges, ponkan, pineapple, pinya, mangoes, mangga from the stand. Prices are usually marked, so not too hard to figure in piso /kilo. But no matter how many kilo, they usually ask how many pieces sir? So why is the price marked per kilo if you need to be asked how many of each? Oh di bale (never mind). While the clerk gets my fruit, 3 girls standing nearby get "kano curious". There are not that many Amerikano in town so the Filipinos are always curious to meet and talk to one, to practice their English on.
Typical greeting is Hey Joe or hello my friend, then the 20 questions begin. Filipinos are supposedly shy in general but it is always overruled by their curiosity.
1. Hey Joe, where you going? LOL I'm here
2. What you do here my friend? I buy fruits
4. Where in USA? ILLINOIS you know that?,hindi ahh you know Chicago? OOOO Chicago opo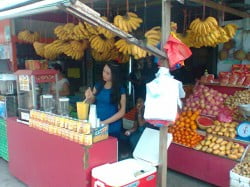 5. How long you in Philippines? 2 years
6. ALL that in Calbayog? Yes
7. Where you live here? I tell them my address
8. You got Filipina wife? OO,yes
9. How many kids you got? None in Philippines, but 3 in the states older
10.You don't like to have kids with Filipina? I can't make more babies.
11.How you like the Philippines? I love it here in Calbayog Samar
12.You got single friend to give to me? Maybe
13.You have work here? No I'm retired
14.You have pension? Yes I'm on pension
15.How much your pension a month? Enough to be comfortable
16.You share a friend to me please? LOL ok
17.What is your friend's name? I have many friends
18.He comes here too Philippines? Maybe later
19.You have house or rent? I rent Apartment
20.How much your rent each month? P6000
OK you got the gist they keep asking the more you stand there, so time to trike it home,