Mango Lounge has started having bands again. They have not had a band since COVID. Right now it is only on Friday nights but he hopes to get another band for Saturday nights, a rock band, which I would enjoy more than the band that plays now. It's a good band, but most of the songs they play I do not know. Supposedly famous songs from Tik-Tok. I don't do Tik-Tok. The female singer of the group has a nice voice and the lead guitar guy sings pretty good also. These days I usually go to Mango on Wednesdays (Expat Day), Friday nights (the band) and Saturdays (Game Day). Games Day is something we had going before COVID but it is slow in getting restarted. This past Saturday we had 3 others beside me and that has been the most so far since we've restarted it.
Speaking of Mango, Christian (the owner) is trying to introduce new things all the time. I finally got him to make enchiladas, after asking him for several years, and he did a pretty good job. I mean not as good as the enchiladas we have in Texas, but the best ones I've had in the Philippines. Only the 2nd enchilada I've had in the Philippines. Some of the other Tex-Mex things he has is tacos, burritos and quesadillas. He also now makes a steak sandwich which is very, very delicious. You have to order ahead of time so he can order the special bread, but it's great. I think I have a picture of the sandwich. Yeah, here it is.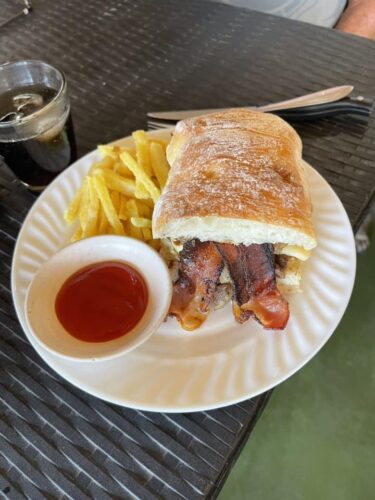 Donny, from Southern Style Wings, has not been around for a few months. He had many things to take care of and some of those things were in the US. I heard that he was supposed to be back this month or June. I hope so. I miss talking with him and eating his Uncle J's Chili Cheese Pie. My wife misses his lemon pepper whole fried chicken. I'm thinking of asking him to start making that meatball sub he made for a little while, but it never caught on very well. I definitely will be special ordering some of his coleslaw, beans and mac n' cheese. Those are so good, especially the coleslaw. Like the steak sandwich, you have to order ahead of time for all those things. I hope he gets everything he needs taken care of and gets back soon.
I hear that my niece, Grace, and her parents will be visiting Australia again. It will be their 2nd trip there. I have not even been once. From what I understand they will be going and staying around 3 months. The daughter, Juvic, in Australia must be the one paying for the trip. I hope they have a great time. I often tell them that they should think about moving there, but I don't really think that will happen. They like it here in the Philippines and it is what they are used to. You never know what the future will bring though.
Okay, I just finished eating. I had 1 bowl of chicken vegetable soup (w/crackers), 2 jalapenos, 1 dill pickle and 1 liter of water. To me that is not very much so I hope I did good trying to reduce the amount I eat, especially at night. There is still a few hours before I go to bed so I will have to resist eating anything else. I wonder if eating pistachios and drinking water late at night is a bad thing?
I've been thinking a lot lately of a "what if". What if we sell this property and build another house? I know where I can lease some land, with unlimited amount of years on the lease for a reasonable price. Also I'm guaranteed my lease money back when/if I ever decide I want to leave, plus the amount of whatever my built house will be. The problem is that my wife loves living here and refuses to sell. It's all in her name so, unless I can change her mind, that probably will not be happening anytime soon. I've been trying to design a house, just in case. I know nothing about such things but I draw on notebook paper a lot. I found one site, RoomSketcher, and I tried to do it like a professional. I didn't do it so professional but it's not so bad. I want to incorporate all the things in the new house that I wish we had in this house. I can't post what I did in RoomSketcher but I can post a house close to what I want ours to look like. I would only have 100 sqm for the house but from what I understand about square meters, that should be plenty to even build 2 house that only 2 people each would live in.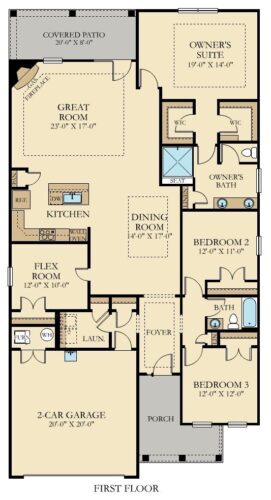 Kind of like that except I do not need the garage. No flex room either. Just extend the kitchen a little further down or maybe just take out that wall and door shared with the dining room. Bedroom #3 would be my computer room. It says "First Floor" but most likely that would be the whole house. Also I think I'd like it horizontal long, so just lay everything down to the left. I would really hope that we would no longer sell ice. I don't like doing that but my wife does, so, again, we do it so she will be happy. All just a dream at this point. It could change completely depending on whether Nening and Titing stay around or go back to St. Bernard.
I play a lot of this silly game called "Around the World in 80 Days" in Big Fish. I've been around the world 51 times and have almost 27,000,000 points and 241 lives left. It was not so easy to begin with, and some of the levels are still hard to do sometimes. The last level is a real bitch but I just did it in record time this last time, 13:58. It's the game I play the most with Plants vs. Zombies being my second most and a few of the Jewel Match Twilight games making up 3rd place. I wish there was a Plants vs. Zombies 2.
Did you know that on your computer if you press "Windows" then type in "CMD" you can then type in Winget Upgrade –all and it will update everything on your computer that needs updating? I just tried it today because I knew I had some things and some things don't work when I try to do them myself. It worked great. I had 16 updates.
I suppose this post is long enough also. I'm really, really, really going to try to post a lot more. I have really been neglecting both my blogs, especially this one. I am scheduling this for 12 May at 0900 to be post to the blog.
Salamat Y'all