12 Nov – One Busy Morning
[smartads]
Things got started early this morning.  And when I say early, I do mean early.  Although I did not go to bed until around 0100, Lita and I were up around 0300.  Oh, I knew it was coming, but I'm so use to being up around that time, I didn't feel like adjust my schedule for this one event.  Besides, I'm retired.  I can go to bed and wake up anytime I want to most days and not have to worry about a thing.  I can even take a nap anytime I want to during the day (or night) and it doesn't really matter like 95% of the time.  Even take 2 naps per day if I so choose.  Anyway, I'm getting off the subject, which I do on many occasions.  A lot of people tell me that they like it when I get off the subject and ramble, so I never bothered to try to adjust.  Oh okay, back to the subject of the post.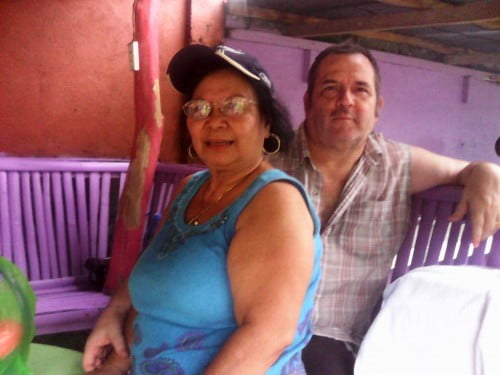 We were up so early because Lita, Judith and Victor were heading for Tambis in Southern Leyte this morning.  They are going there for a couple of reasons and I can't really say one is more important than the other.  Usually each year they/we go there for All Saints Day.  Normally the departure day is around 29 or 30 Oct with a return date of 1 or 2 Nov.  Well this year there was an additional reason for going.  Cousin Tony's son (Jun) is getting married on 14 Nov and we were all invited.  I'm not much for going to weddings, so I opted out.  I almost changed my mind a couple of times about going, but it wasn't because of the wedding.  The Reonals (Cathy, Ado and the kids) live there and I have not gotten to see them for awhile.  I've seen some recent pictures and noticed that Precious has grown a lot.  All the other kids looked basically the same, only a little taller, which is normal.  Well all except for Patricia, she still looks the same.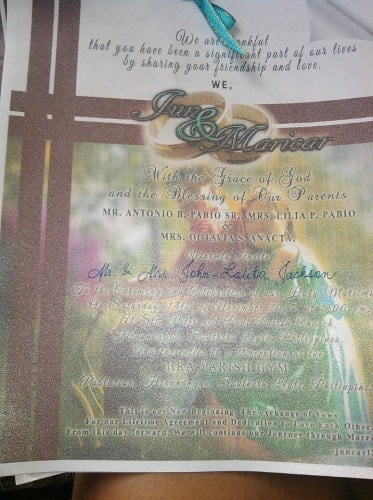 So anyway, they went there for the wedding and while there they will still visit the cemetery like they normally do for All Saints Day.  Lita said that as long as it was during November, it would be okay.  So I guess it's like All Saint's Month.  I don't know.  As long as she's good with it, so am I.
So up at 0300 and they are suppose to catch the bus at 0400.  Well at 0315 I was sitting outside and I notice this bus, Samar Bus Lines (which is the one they said they are taking) driving by really slow.  It stopped out front, then crept forward, stopped again, forward, stop and then it left.  Right after it left Judith came downstairs and I asked her if that bus was looking for them.  She said, "Maybe".  She went out to look, but it was already gone.  Then Lita and Victor showed up, they did some Tagaloging and decided to bring the bags across the street to in front of the Ciriaco.  I was told that when the bus comes back, it will stop there for them.  Okay, so I help bring the bags over there.  There are 7 bags, one of them bigger than me (not really, but it was big).  That's the one I carried down the stairs.
So the bags are there and then they decide to take a tricycle to the bus depot (which is by the open market) and have the bus stop at the Ciriaco.  Okay fine.  They all left to go to the depot and I'm stuck watching the luggage.  (Appropriate You Tube video for the situation).  The security guard at the Ciriaco is out there also and he asked me what was wrong with my arm.  I looked and there is blood.  I didn't feel anything.  I must have scrapped it on something while bring that enormous bag down the stairs.  Well I'm the luggage guard, so I just stay and don't bother with the blood.  It looks like it's all dried up anyway.
After a little longer, I guess it was close to 0340 by then, I see a man walking up the street.  As I'm watching, the walk looks familiar.  It's strange that I should notice a walk, but I did.  It was Victor.  He walked back from the bus depot to help me watch the bags I guess.  He never said why.  Since he was there, I decided I needed to go in and wash that cut with some soap and put a band-aid on it.  I washed it with soap and water, then put some alcohol on it before I applied the band-aid.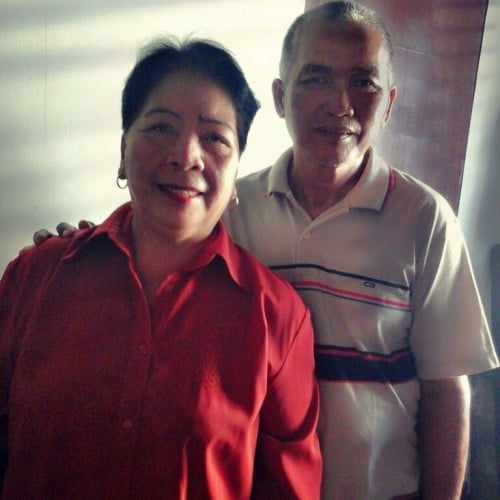 I went back out to the luggage and around 0355 we saw the bus coming.  Sure enough it stopped.  I saw Lita sitting there by the window, so I figured that was a good time to start loading the luggage.  Most of it go tossed in the back with the other bags, but Lita wanted her one bag with her.  So that was done.  They had 7 bags and 4 of them got put in the back.  Judith and Victor had the 2 smallest bags with them up front.  It looked like they had their food and drinks in those two.
So I tell Lita bye again and she reminded me (again) to give the P20 to Lang Lang and/or Femia (Pam) to buy the pandesal.  We pay P20 per day and get 10 pieces of pandesal.  I only eat 2 to 4 of the per day, usually with peanut butter and banana or pb&j if no bananas.   Right now we have 2 bananas left.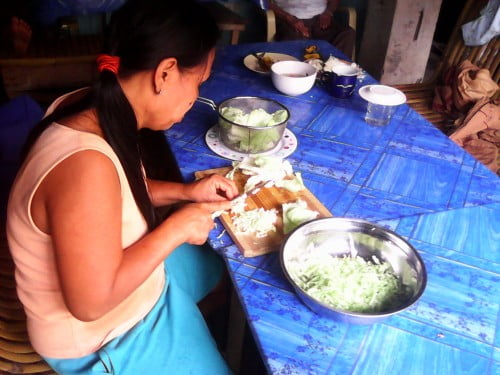 Something I learned this morning, which I probably should have known long ago, is that the tricycles are out there 24/7.  I always figured they packed it in sometime early in the morning. According to Victor though, and he is a trike driver, they are out there all day and night.  It's starts getting light right around 0530 here.
So now for the next 4 nights, I'll be here by myself.  Titing & Neneng are still here (as far as I know at the moment).  Pam will be sleeping over with Lang Lang upstairs starting tonight and staying until Lita returns.  Also Ramil is usually around also.  Robbie and the kids are staying with her parents awhile, so it's pretty quiet around here now, except for the traffic.
It's 0600 now.  I have already heated up the water to make my hot chocolate/coffee combo.  I'm just waiting for Lang Lang to come down and ask for the money for the pandesal.  Pam should be here around 0700, but if she doesn't show up until 0800, it really doesn't matter to me.  I'll mostly be here at home, as usual, and sometimes worrying about Lita.  I hope she lets me know when she gets there.
Salamat Y'all